Series: Proliferation
Time To Grow
June 30, 2019 | Pastor Thaddeus Thomas
John 15:1-8
21/90 Rule
It takes 21 days to create a Habit. It takes 90 days to create a Lifestyle. ALM lets take the Challenge!
What is the Challenge? To Proliferate. Rapid increase in Numbers. Look at neighbor and tell them. It's time to Grow. Now we grow three areas of our life. Spiritually, Physically, and Financially.
John 15:1-8 - I am the true vine, and my Father is the husbandman. 2 Every branch in me that beareth not fruit he taketh away: and every branch that beareth fruit, he purgeth it, that it may bring forth more fruit. 3 Now ye are clean through the word which I have spoken unto you. 4 Abide in me, and I in you. As the branch cannot bear fruit of itself, except it abide in the vine; no more can ye, except ye abide in me. 5 I am the vine, ye are the branches: He that abideth in me, and I in him, the same bringeth forth much fruit: for without me ye can do nothing. 6 If a man abide not in me, he is cast forth as a branch, and is withered; and men gather them, and cast them into the fire, and they are burned. 7 If ye abide in me, and my words abide in you, ye shall ask what ye will, and it shall be done unto you. 8 Herein is my Father glorified, that ye bear much fruit; so shall ye be my disciples.
ALM this is who we are. We are God's disciples called by his name to bring about Proliferation.
Today I am speaking to your Heart. I am not hear to tickle your ears and motivate your mind.
Luke 12:34 - For where your treasure is, there will your heart be also.
Everything that God has for us today needs to clear our hearts before your outer man can see what God has for us.
ALM we were created to be Fruitful and Multiply. It's in our DNA to be Successful at Proliferation. Like everything it comes down to our Heart.
In the next 21 days we are going to create a habit in getting people saved, healed, restored, and transformed to Kingdom Status.
Our Habits are our Footprints of our Passion. Passion is a teller of where someone's heart is. ALM where is our Heart today?
Ephesians 5:1-2 - Be ye therefore followers of God, as dear children; 2 And walk in love, as Christ also hath loved us, and hath given himself for us an offering and a sacrifice to God for a sweet-smelling savor.
What do you see and hear? Passion! God and Jesus has a heart for us. We have to follow in the footsteps of our Savior. This comes by making a Habit of Doing.
ALM this is not impossible. Luke 1:37 - For with God nothing shall be impossible. Philippians 4:13,19 - I can do all things through Christ which strengthened me. 19 But my God shall supply all your need according to his riches in glory by Christ Jesus.
If we want to see something New in our lives we have get rid of the old and apply the new.
What kind of church are we ALM? Faith! 2 Corinthians 5:7 - For we walk by faith, not by sight.
Look at your neighbor and tell them. We can do this. The gates of hell will not prevail against us ALM. We have the keys of the kingdom to bind and lose.
Psalms 37:1-9 - Fret not thyself because of evildoers, neither be thou envious against the workers of iniquity. 2 For they shall soon be cut down like the grass, and wither as the green herb. 3 Trust in the Lord, and do good; so shalt thou dwell in the land, and verily thou shalt be fed. 4 Delight thyself also in the Lord: and he shall give thee the desires of thine heart. 5 Commit thy way unto the Lord; trust also in him; and he shall bring it to pass. 6 And he shall bring forth thy righteousness as the light, and thy judgment as the noonday. 7 Rest in the Lord, and wait patiently for him: fret not thyself because of him who prospereth in his way, because of the man who bringeth wicked devices to pass. 8 Cease from anger, and forsake wrath: fret not thyself in any wise to do evil. 9 For evildoers shall be cut off: but those that wait upon the Lord, they shall inherit the earth.
Everybody say Power and Ability. That is what we have ALM to Proliferate this church for the Kingdom of God.
21 days to create a new habit. 90 days to create a new lifestyle.
Are you ready to take this Challenge ALM? Remember we are not alone.
Matthew 18:19-20 - Again I say unto you, That if two of you shall agree on earth as touching anything that they shall ask, it shall be done for them of my Father which is in heaven. 20 For where two or three are gathered together in my name, there am I in the midst of them.
Series Information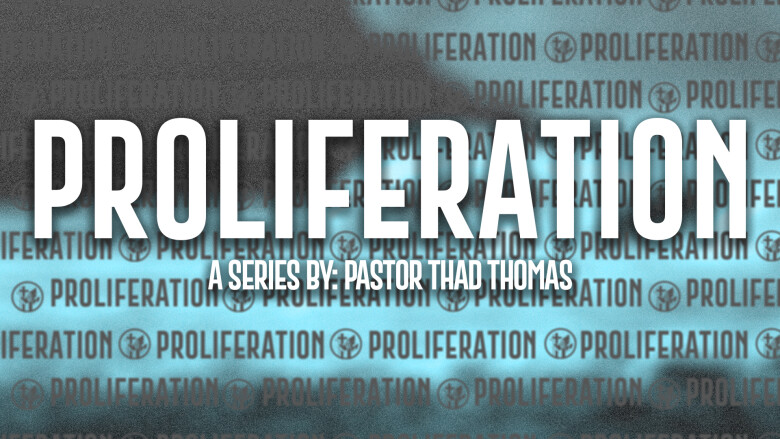 What is Proliferation?
Proliferation- A rapid increase in number.
In this series Our Head Pastor, Pastor Thad Thomas breaks down what the word means to us as Christians and how we can use it in our Daily walk with christ. He also shows you in the word where God showed us Proliferation.