Series: Miracle Mornings
Proliferation Starts with our Families
June 21, 2019 | Bishop Hugh Thomas
Numbers 23:19 - God is not a man, that he should lie; neither the son of man, that he should repent: hath he said, and shall he not do it? or hath he spoken, and shall he not make it good?

Titus 1:2 - In hope of eternal life, which God, that cannot lie, promised before the world began;

Hebrews 6:18 - That by two immutable things, in which it was impossible for God to lie, we might have a strong consolation, who have fled for refuge to lay hold upon the hope set before us:

Psalm 119:89 - For ever, O Lord, thy word is settled in heaven.
Isaiah 55:8-11
8 For my thoughts are not your thoughts, neither are your ways my ways, saith the Lord. 9 For as the heavens are higher than the earth, so are my ways higher than your ways, and my thoughts than your thoughts. 10 For as the rain cometh down, and the snow from heaven, and returneth not thither, but watereth the earth, and maketh it bring forth and bud, that it may give seed to the sower, and bread to the eater: 11 So shall my word be that goeth forth out of my mouth: it shall not return unto me void, but it shall accomplish that which I please, and it shall prosper in the thing whereto I sent it.

When God says something, it is going to happen.

Proliferation – Increase in numbers

We need to start with our own families. We have too many family members that are not saved. Jesus already paid for all our sin to be forgiven , Therefore if we choose to live in sin we have to pay our own way.

Acts 16:30-33
30 And brought them out, and said, Sirs, what must I do to be saved? 31 And they said, Believe on the Lord Jesus Christ, and thou shalt be saved, and thy house. 32 And they spake unto him the word of the Lord, and to all that were in his house. 33 And he took them the same hour of the night, and washed their stripes; and was baptized, he and all his, straightway.

All shall be saved, when you believe on the Lord Jesus Christ; believe the word.

We block the Holy Spirit from getting to our loved ones. We always want to pray for them. When you pray safety, they will never be saved. They will continue living their sinful life.

*They have to call on God.
Series Information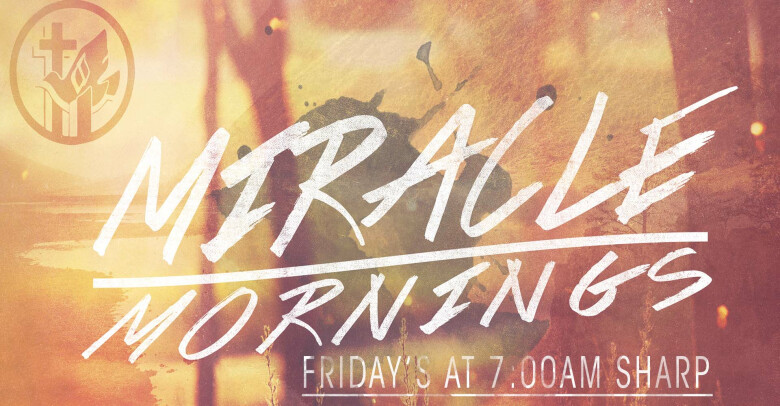 Every Friday Morning at 7:00am we come together for a early morning service to start the day off with a Miracle Morning.